Holidays
under the Schlern
Apartments in Castelrotto
Farm Kienzlhof is located right above the village of Kastelruth with a beautiful panorama on the Schlern. Oswald and Ulrike with their children Matthias, Florian and Johannes as well as grandma Rosa will warmly welcome you in South Tyrol.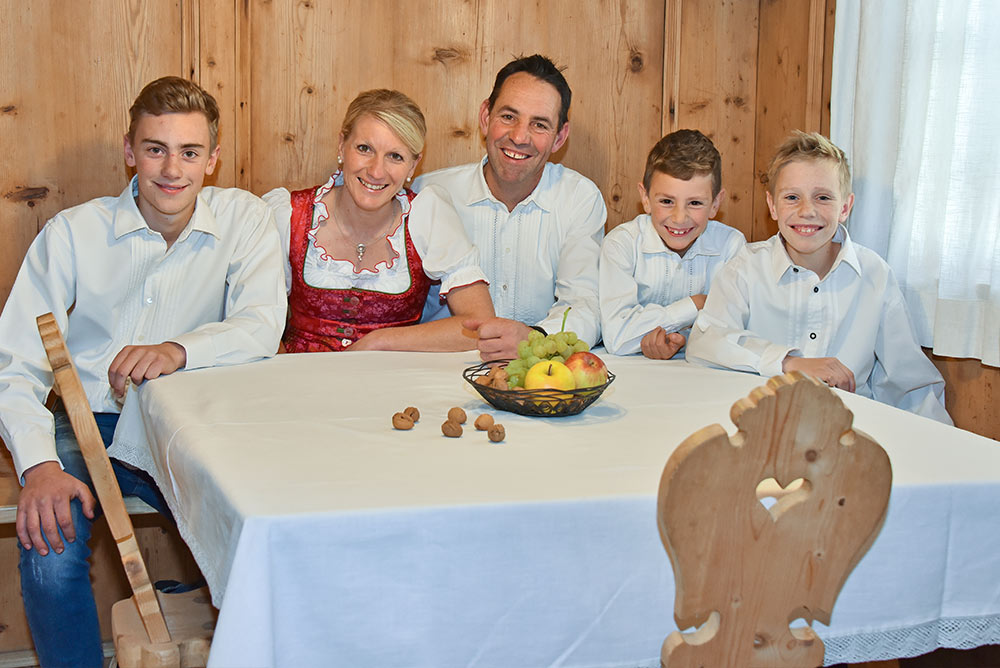 Enjoy your holidays in our big, comfortable and fully equipped apartments. Our farm is located in Tiosels, outside the centre of Kastelruth and is open the whole year. Surrounded by other farms and really close to the wood, you will be far away from the traffic and hectic places, the perfect condition to enjoy peacefully South Tyrol's most beautiful panoramas. Our farm has always been family-run and offers to its guests exclusive home-made products: fresh milk, yoghurt and eggs as well as juices and home-made jams.

At farm Kienzlhof you will find 15 cows, calves, pigs, chickens, ducks and a pony. In addition there are also bunnies and cats: a perfect place for families to enjoy holidays in Kastelruth and experience the farm lifestyle. At our farm it is possible to touch and stroke each of our animals. There is also the possibility, for those interested, to participate to the daily farm works. There is no better occasion to know more about local agriculture and to forget about the stress of everyday life.
A place for families
at the Kienzlhof in Kastelruth
Our apartments are spacious, so that every family will feel comfortable in them. The 54 square meters apartment "Morgenrot" is the littlest one and the 68 square meters apartment "Sonnenschein" is the biggest one. Groups from 6 to 8 persons will find all the space they need. The apartments are equipped with all comforts with modern electric stove, dishwasher, microwave with grill function, TV and WLAN. Besides, each apartment has two different sleeping rooms. We have also a playroom and outside the house there is a playground with all the necessary to have fun.
Fun guaranteed
all year round at the foot of the Alpe di Siusi
The main attraction outside the doors of farm Kienzlhof is for sure the winter sports area Seiser Alm with its 60 km of slopes, 80 km of cross-country course and the Snowpark for snowboard fans. Besides this, you can also reach the Marinzenalm from Kastelruth with a chairlift or cross-country skiing only 500 m. far away from our farm.
Summer is also a season full of events and attractions. All around the Seiser Alm there are lots of thematic hiking paths such as the "Oswald-von-Wolkenstein" path, the path to the "Hexenquellen" (source of the witches) or the Mushrooms path. All of them are ideal hiking alternatives for the whole family. The Seiser Alm hiking area offers also a wide range of activities for mountainbikers, climbers and nature lovers.