Weather forecast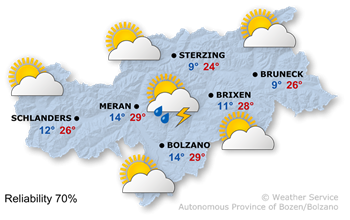 The weather situation will not change little. South Tyrol remains under weak high pressure influence.
Residual clouds will dissipate in the morning, then sunny weather. In the afternoon some cumulus clouds will form and iolsated rain showers or thunderstorms are possible.
2023/06/03
2023/06/04
2023/06/05
2023/06/06

20°/26°

8°/16°

19°/26°

9°/16°

19°/26°

7°/15°

20°/27°

7°/15°

70%
70%
70%
70%
Saturday widespread sunshine in the morning, in the afternoon the tendency for thunderstorms will increase. Sunday more clouds and rain showers especially in the second half of the day. Temperatures will drop by a few degrees. Monday still changeable with sun, clouds and thundery showers. On Tusesday quite sunny weather.